Distinctive Artwork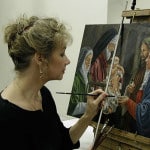 An original idea married with a desire for excellence begins the process of creating great artwork. With a solid educational foundation and quality materials, Teresa makes your dreams become reality through great care and painstaking attention to detail. Let's take a journey through what separates ordinary painting from a "Satola original."
Church Commissions
Commissions from various Churches.
The Finest Materials for the Finest Portraits
A Satola original features the finest art materials available today. Teresa's exceptional oil paintings utilize only Belgian portrait linen for its heirloom value and extended life. Many of Teresa's clients plan on commissioning an heirloom for future generations to enjoy, and they appreciate her expertise in being forthright about using the finest materials. The best portrait artists will share these small but significant details with their clients. This is but one of the reasons why savvy clients insist on a Satola original.  Contact Teresa via email or telephone to talk about scheduling a private commission or a church commission.