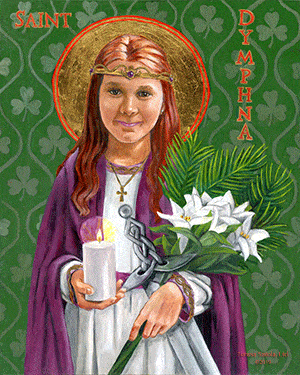 What the Artist Thinks
I really enjoyed designing the icon of Saint Dymphna. People ask what my thoughts were when I sat down to create this icon. So let me tell you.
First, I studied her life to get to know her. I studied other artists' renditions. I thought about how she would dress and what she would like. I found that I had a lot of things to work with for this young lady ie: station in life, age, nationality, sanctity, martyrdom.
I wanted to portray her as a 15 year old, full of life. All the other pictures I'd seen of her, showed her being much older. Even the costumes were inaccurate and from much later time periods.  I wanted to portray her as the young lady she was, so I asked Our Lady of the Mountains parishioner, Selah, who is the same age Dymphna was when she was martyred, to be my model.  
Next I researched seventh century Irish Celtic costume. St. Dymphna was an Irish princess in seventh century Ireland. When I designed her crown, I wanted to keep it Celtic, simple and youthful since she wasn't quite an adult yet.  For her clothing, I chose purple for her cape because she was royalty. White for her gown to signify her virtue. I trimmed the collar and cuffs purple with gold. She even has tiny pearl earrings on of which you can see only one.  Like all teenage girls, I'm sure she liked jewelry.  And it would be simple because of her age and the time period. 
Then I needed to have her hold items that would identify her as Dymphna. In the early Church, many people could not read, so in order to identify the saints, the people knew what colors they wore and what they carried. Dymphna holds a candle which shows the light of Christ in her. She also holds a bouquet of lilies and palm branches. The lilies signify her purity, while the palm branches denote her martyrdom. And last, but not least, she also holds the sword of her father, the instrument of her martyrdom.
I tried to use Celtic style wherever possible in the icon. The sword has a Celtic pattern on the handle. The trim on her collar and cuffs is also Celtic design. She has a gold Celtic shaped cross around her neck to convey her Christianity.  And for the background, green, the color of Ireland, with tone on tone shamrocks that represent the Trinity, and let you know, if there is any doubt, her Irish nationality. 
So, as you can see, an artist must put some thought into her creation. She just does not sit and start painting. 🙂